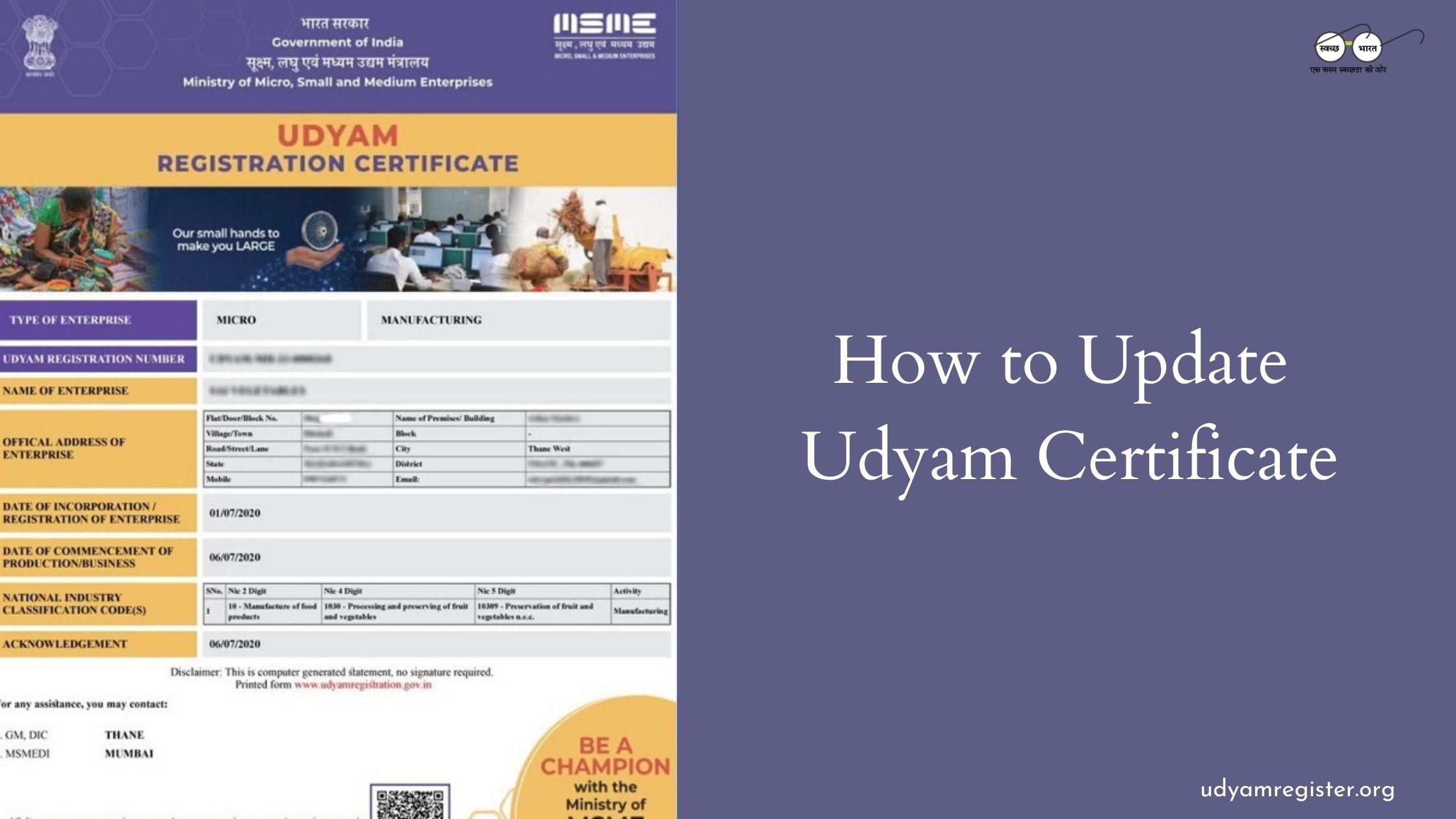 How to Update Udyam Certificate
We have announced a new option to update the Udyam Registration Certificate in our Udyam Registration Portal. This update is made for every business person so that they don't enquire any difficulties in their registration process.

Udyam refers to some unique requirements for the classification of enterprises as micro, small and medium enterprises that have been adopted by the government. Udyam is the latest MSME/Udyam Registration process initiated by msme. MSMEs have various advantages for the growth of MSMEs and Udyam Registration companies can also benefit from them.

A permanent identification number 'Udyam Registration Number' and e-certificate 'Udyam Registration Certificate' respectively will be assigned after the registration has been completed.


Beneficials of Udyam Certificate:
Safety Deposit Waiver for Government Tenders and Departments.
Subsidy for Patent Registration is available.
Interest rate Discounts on loans to the Bank.
Enjoy quick mortgages from banks and bank business loans.
Reservation of goods by MSME and SSI for exclusive production.
1 percent interest rate exemption on Overdraft.
Guidance regarding Update Udyam Certificate Online:
Once the registration is done, the name will be final, and you can't change the name after that.
Once changed, applicants can not update their Aadhar card number.
The applicant will be unable to change the district, state, in the registration form.
Only in exceptional situations the PAN number will be considered for adjustment.
How to get Udyam Certificate:
Visit Udyam Registration Portal to get the certificate in order to be a legal member of the Udyam Certificate.


You can find a registration form once you get to our website. Complete the form kindly.


You need to enter the following information- applicant's name, mobile number, email address, and udyam registration number to complete the form. (Only the registered number & e-mail previously provided in the Udyam registration will be accepted.)


Accept the terms and restrictions to obtain your revised Udyam certificate in your inbox.

Note: You must share your OTP with our representative to proceed your application.

About Us:
We are business consultants who provide Udyam with a registration service provided through our registration portal for all your account registration work. So none of the businessmen will have to face any kind of challenges in their registration process. If you experience any difficulties updating your Udyam registration certificates, please let us know at @udyamregister.org and we will be in regular communication with you.
To stay tuned, visit us at udyamregister.org for updates and other concerns.

Please visit our Contact Us page for more information or questions about Udyam Registration.


Frequently asked:
Can aadhar card number be changed?
Ans- No, once you've completed the registration process, you cannot change your Aadhar number.


What are the details that cannot be updated in the Udyam Certificate?
Ans- The details that cannot be updated in Udyam Certificate are name, state, district and aadhar number.